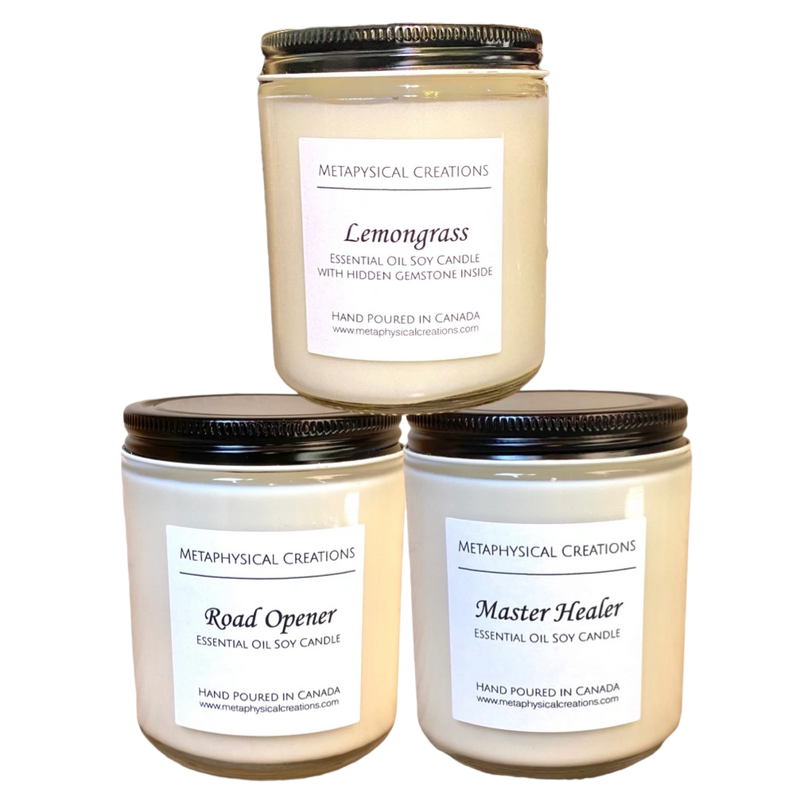 WE ONLY USE 100% PURE SOY WAX IN ALL OF OUR CANDLES! 
ARE ESSENTIAL OIL CANDLES SAFE FOR MY PETS? 
One of the biggest misconceptions about essential oils is that they are harmful to our pets. Our soy candles are diluted to a 6% oil to soy wax ratio. (Mildly scented) Scent alone does not harm animals, they may be toxic if ingested, just as fragrance oils may be toxic if ingested. I stand behind all of my products, as an animal lover and owner of five cats. 
HOW TO CARE FOR YOUR NEW CANDLE: 
All of our candles are made with organic vegan soy wax, essential oil, essential oil blends and organic botanicals. 

When lighting a soy candle for the first time, allow the wax to melt all the way to the sides of the container. Depending on the container size, this should take around 1-3 hours. Failure to do this will often cause "Tunneling" which will limit the life of your new soy candle.
Soy wax does not burn as hot as paraffin wax, so soy wax candles require a thicker wick, which does not burn 100% and needs to be trimmed regularly. Aim to trim your wick to about 1/4"/6-8mm before you re-light your candle. This will ensure a long lasting candle, minimize soot and remove any mushrooming of carbon on the end of the wick before lighting.
Don't allow candles with botanicals to burn right to the bottom of the jar. This may cause a fire inside the jar. 
All gemstones can be left inside the candle or they can be taken out, it's completely up to you. 
Place the lid tightly on the jar between uses to preserve the essential oil fragrance. 
Please remember our soy candles are hand poured, not mass produced, and although every effort is made to ensure consistency, every candle will be a little different. When using completely natural soy wax, sometimes you may notice darker patches or "wet" spots in your container candles. This is not a fault, simply a small blemish where the wax has not adhered to the glass 100%. The top of your candle may also appear slightly uneven, this is also a sign of natural soy wax being hand poured. These imperfections do not affect the candles performance. 
Please recycle/reuse.