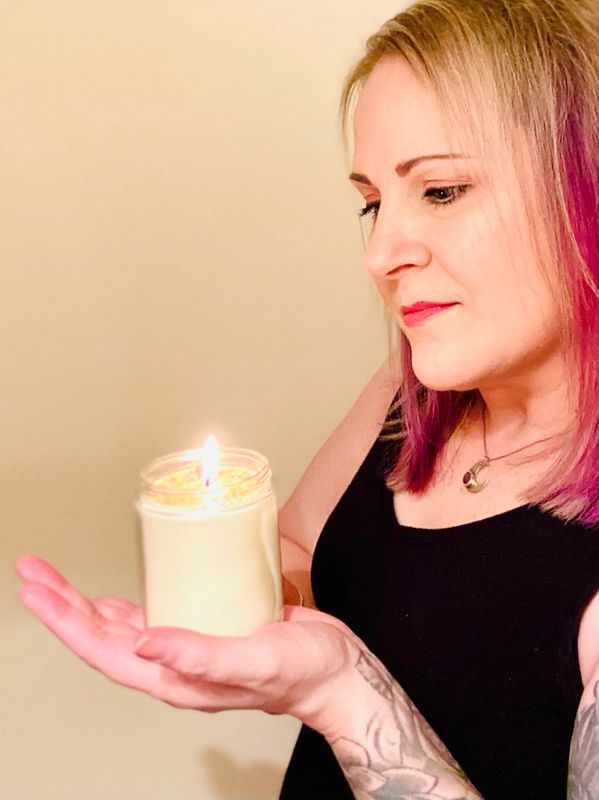 Jennifer Slingsby - Creator/Founder of Metaphysical Creations 

Trauma Counselor, Reiki Master/Teacher, Spiritual Teacher, Healer, Chandeler, Wife, Mother, Breast Cancer Survivor, Artist, 100% Vegan & Cruelty Free
Metaphysical Creations was created on January 1, 2017. During this time, I worked as a Therapeutic Art Specialist, providing art therapy to at risk youth in my community. (2006-2018)
The job was a dream, the politics, not so much. I was unhappy.
I was then diagnosed with stage three breast cancer on March 16, 2018. I knew this was going to be a monumental turning point in my life. And it was.
During my 21 months of Chemo/Radiation/Surgery, I knew I had to make some major life decisions. All the while, I continued to expand my online shop. I specifically remember creating an entire Bohemian jewelry line from my bed! 
Without the distractions of daily life, my spirituality and creative expression, took a front row seat. I dove deep down, into all the facets of my soul, and rediscovered who I truly was. I made the commitment to never lose myself again. 
Working with metaphysical products, coupled with reiki, I was able to process and release trauma, like it was my new full time job! I was transforming.
I quit my position as art therapist. I knew that if I went back, the cancer would return. I realized that I may have never left this job, if the universe hadn't stepped in. (Which eventually put me on my path)
During my cancer journey, I went 100% Vegan and Cruelty Free. It was a conscious awareness, and decision, to not interfere with the free will of others. (All sentient beings) 
The decision to go vegan and cruelty free, opened a new door, to what has become my ultimate passion and purpose. 
I am committed to my promise, to create quality, therapeutic, vegan and cruelty free products. 

I married my love of natural earth giving ingredients, like sustainable organic soy wax, pure essential oils, premium fragrance oils, organic botanicals and genuine gemstones. 
Every reiki infused candle is a celebration of strength, perseverance, healing, purpose and passion. It is truly an energy that you can feel, the moment you hold one of my candles. 
You're not just burning a candle, you are releasing intentional peace, protection and healing into your space. This is my gift to you. 
Abundant Blessings,

Jennifer Slingsby 
Here at Metaphysical Creations, we are committed to reducing our carbon footprint by using organic, homegrown (Where possible), sustainable, ethical, vegan and cruelty free botanicals and essential oils. 

We are focused on recycling, reusing, up cycling and reclaiming as many materials as possible.
Your order will be packaged in a 100% recyclable/reusable paper box or bag, crinkle paper, tissue paper, paper stickers etc. We hope that you are able to continue to reuse these materials. 
All products in our shop are infused with Reiki, are 100% vegan, sustainable and cruelty free!